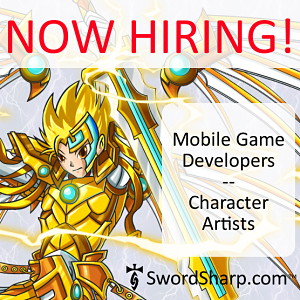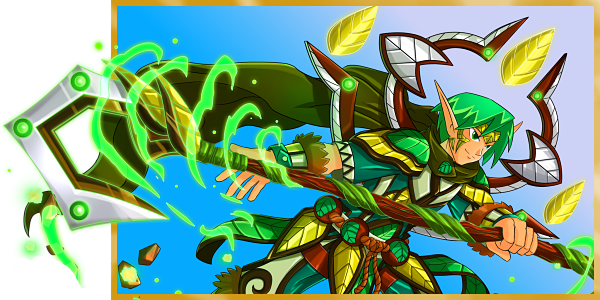 Join us at SwordSharp!
We are on a mission from the Most High to change the world through Japanese battle RPGs.  Want your work to matter beyond the play session?  Want to earn a paycheck while making a difference?  Passionate about high quality work and high quality people?  Then SwordSharp.com just might be the place for you!
Mobile Game Developer
We are building a team of experienced industry veterans to create an action-packed Japanese fantasy battle RPG dedicated to drawing in the mid-core gamer for the purpose of helping them understand the Gospel of Jesus Christ.  This is *not* an education app or a children's game.  This is an intense effort to develop a top mobile JRPG that is as good as, if not better than, the top apps on the market.
We are looking for an experienced, self-motivated mobile game developer that shares our passion to reach the world with the Gospel to help us build this world changing game.
Requirements:
2+ Years experience developing high quality, polished, published, cross platform mobile games/apps (iOS & Android)
Passion to reach the world with the Gospel through digital media
Ability to work remotely with the game development team while timely and accurately fulfilling deliverables according to the scheduled plan
Bonus:
Back-end development experience
Localization development
Position Type:
Contract – (Possible contract to hire)
Remote – (Must be available for team video conference calls)
If you're interested in being apart of the next big move of God in the digital entertainment world then please submit your resumes and cover letters to connect@swordsharp.com.
Character Artist
We need an experienced and talented mobile game character artist who is passionate about creating amazing 2D Japanese battle character art.
Are you passionate about sketching and digitally painting lots of amazing action battle poses?  Are you good at making evolving units that grow from cute fighter to awesome warrior?
Do you want to create spectacular art that's actually MEANINGFUL, helping hardcore gamers know the love of God through Jesus Christ in a fantasy universe?
Requirements:
1.5+ Years experience creating polished, digitally painted, 2D battle characters for at least one published mobile game or similar product
Skilled anime-inspired battle character artist
Skilled Photoshop user
Must own all tools and software in order to remotely produce the highest quality digitally painted 2D character art
Ability to draw potentially hundreds of action-posed characters of many forms, species, and element types
Ability to create units with evolutions consistent with the characters' power level
Position Type:
Contract – (Pay-by-piece – Possible contract to hire)
Remote – (Must be available for team video conference calls)
If you feel like you're the perfect fit and you would like to join us in developing a world changing Japanese battle RPG then send your demo reel, resume, and cover letter to connect@swordsharp.com.